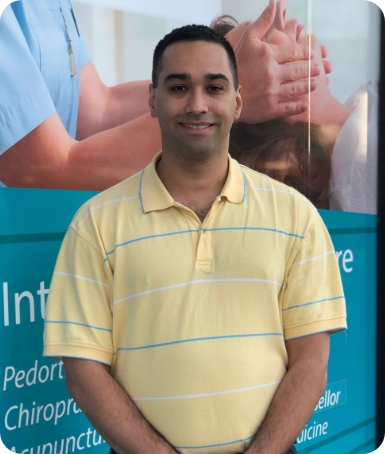 "Dr. Alex Murray, attended the University of Western States an evidence based school, in Portland, Oregon to study chiropractic, where he graduated with honours. Dr. Murray would then start his career taking over Point Grey Chiropractic in 2012, where he ran and operated his own clinic for the past 7 years. Since 2015, Dr. Murray has split time at Spring Medical Centre working alongside MD's, physios, massage therapists etc.
Dr. Murray thoroughly examines patients, assessing function and using orthopedic tests to accurately diagnose a patient. Dr. Murray's treatment style is a blend of traditional chiropractic with massage and physio techniques. Dr. Murray uses an aggressive approach to improve function and fix injuries, not just put a "band-aid" on symptoms. As treatment progresses, Dr. Murray provides the patient with home exercises and stretches. Dr. Murray is experienced in many techniques including McKenzie protocol, Active Release, Graston etc. and has used modalities such as Ultrasound and Shockwave for treatments.
A wide variety of patients receive treatment ranging from general wellness, work related discomfort, sport injuries to more severe conditions such as motor vehicle accidents. During his time at Spring Medical, Dr. Murray has worked on hundreds of motor vehicle accident patients. He has helped many patients overcome some of the most severe injuries.
Also a graduate of UBC Kinesiology, Dr. Murray has worked with many athletes near the Point Grey campus ranging in ability from recreational, high school, collegiate, club, professional to Olympic level athletes. Dr. Murray played college football at UBC and along with his Kin background, this has allowed him to have a better understanding of the needs and demands of athletes at all levels.
Dr. Murray has spent time working with independent medical examiners assisting specialists such as Physiatrists and orthopedic surgeons. This experience was invaluable for elevating Dr. Murray's examination skills and diagnosing abilities. "