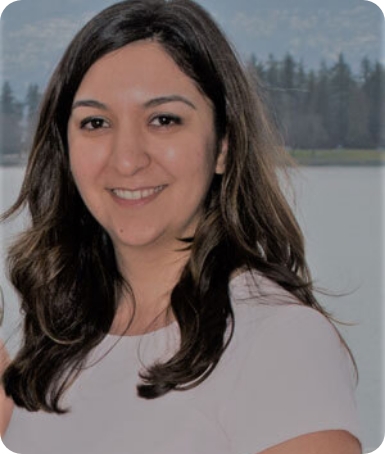 Shahla Jalali-Mazlouman is a registered clinical counsellor (#11503) and a member with the British Columbia Association of Clinical Counsellors (BCACC) and Canadian Counselling and Psychotherapy Association (CCPA).
She holds a Master of Counselling Psychology from the University of British Columbia (UBC) in Vancouver, BC. She has also completed post graduate training in play therapy, parent child relationship therapy, expressive and creative art therapies, and trauma counselling. Her career as a counsellor began when she started working in the school system where she provided counselling to adolescents struggling with anxiety, depression, self-injury and suicidal ideation, and prevention. Her career further developed in the non-profit sector where she became interested in helping individuals with a history of abuse and trauma in adults and adolescents, childhood trauma, and child behaviour concerns.
As a therapist, Shahla provides a warm, inviting, safe, and therapeutic environment. She helps individuals in rediscovering, and rebuilding those parts that may have been lost or bent as a result of traumatic incidents, or daily life stressors. Shahla uses creative and expressive modalities to help individuals share their experiences that may be difficult to express verbally, in a safe and therapeutic manner. In addition, Shahla is trained in play therapy, using toys to allow children to express their world and difficulties, while learning about emotions and self regulation in an empowering and effective manner. In her work, Shahla helps each individual to reflect, explore, and discover their inner knowledge.
Shahla provides counselling in both English and Farsi. Her offices is conveniently located in North Burnaby